Registrations
The registrations are to be made on the online system provided on the website, from 17th of August/23 on. To get registered, you must have subscribed in the system previously. On order to register, click on "registration", enter in "log in" and then, "request for registration".
The registration fee amounts are: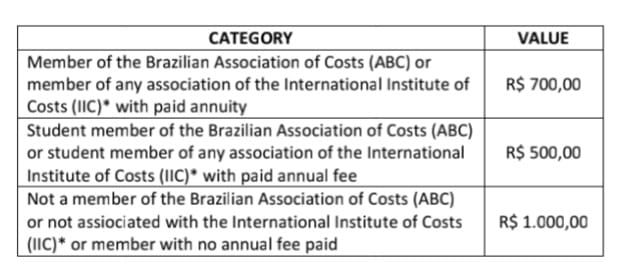 *Member associations of the International Institute of Costs (IIC):
IAPUCO (Argentina)
CPCECABA (Argentina)
ABC (Brazil)
ECAS (Chile)
ICHC (Chile)
RECOGES (Colombia)
EAFIT (Colombia)
UdeA (Colombia)
P.U.Javeriana (Colombia)
ASEPUC (Spain)
ISEOR (France)
APC (Peru)
OTOC (Portugal)
AURCO (Uruguay)
INSTRUCTIONS FOR REGISTRATION AND PAYMENT – FOREIGNERS
To obtain a member discount, you must have a current annual membership fees updated for an IIC member association.
To get registered, after clicking on the registration request, you are requested to fill out the "Foreign Member Registration" and wait for approval.
Students also need to be associated with an IIC member association to obtain the discount. To get registered, after clicking on the registration request, please fill out the "Registration for foreigners" and the "Registration of Foreign Associates" and wait for approval.
The participant will be informed of registration approval by email, and will be able to complete their registration, move to the payment stage by selecting the "commitment*" option. Once the registration reques tis complete, please wait for contact from the event secretariat with payment instructions.
* The registration form for foreigners is on credit card (1x).
Note 1: There will be a discount of R$50.00 (fifty reais) for registrations carried out (paid) until 30 September 2023. Registration payments done after this date (30 September 2023) will not be entitled to the discount. If the payment process is carried out by commitment, which usually takes more time to be effected, please do observe the value without discount, unless payment is guaranteed by 30 September 2023, or the complement amount must be paid. Considering that the commitment payment procedure at almost all institutions takes time to become effective, we suggest that congressmen who opt for this method of payment do not consider the discount, at the risk of having to pay the extra amount of money.
Note 2: After 30 Sep 2023, registrations will not be returned.
If you wish to register as an Associate, please apply to ABC before registering for the Congress at http://www.abcustos.org.br/. There is information on how to join and pay the annual fee on the site above.
Doubts:
Get in touch with Anna Paula
E-mail:secretaria@abcustos.org.br
Phone/WhatsApp: (51) 994060625
PAYMENT INSTRUCTIONS:
Commitment payments will be made to FEPESE – Foundation for Socioeconomic Studies and Research. The procedure follows next:
1. The congressperson must register through the congress page and request the registration, informing that it will be by commitment
2. The responsible institution or body must issue a commitment note and forward it to Mr. Gean, from FEPESE (agentes.projetos@fepese.org.br), with a copy to congresso@abcustos.org.br, containing the names of those registered, name of the contact person, address and telephone number, CNPJ and company name. FEPESE data can be found below
3. FEPESE will issue an Invoice for the Institution. Registration will be considered regular only after the confirmation of commitment.
We remind you that FEPESE is an institution exempt from INSS, IR, ISS, PIS / COFINS / CSLL
FEPESE – Foundation for Socioeconomic Studies and Research
CNPJ: 83.566.299/0001-73 Municipal Registration: 069.886-5 State Registration: exempt
Address: University Campus – CSE – UFSC. Trinity. PO Box 5067. Florianópolis/SC. Brazil.
CEP: 88040-900
Website: https://fepese.org.br/
President: Mauro Dos Santos Fiúza
Administrative/Financial Director: Raimundo Nonato de Oliveira Lima
Superintendent: Marcelino Hirofumi Ito
Telephone: (48) 3953-1087 (talk to Gean)
Bank details: BANCO DO BRASIL (001). Agency: 3582-3. Checking account: 200.024-5